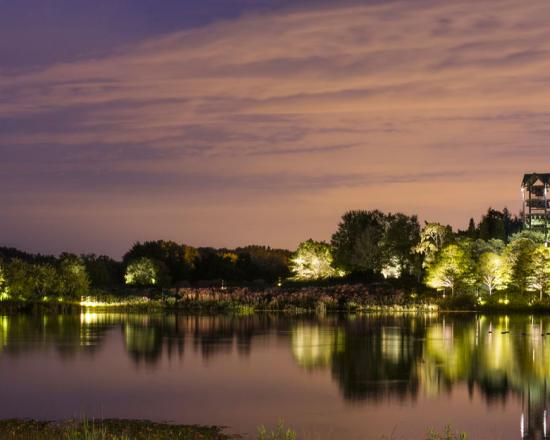 Music Schedule
Thu 20 Feb

Brian Torosian
Guitar

Brian Torosian is an active soloist and chamber musician best known for his work relating to nineteenth-century guitarist and composer J. K. Mertz. In addition to standard six-string guitar, he plays baroque guitar, Terz guitar, and 10-string guitar replicas, the latter two including those made for him by R. E. Bruné after nineteenth-century Viennese instruments.

Torosian is president of the Chicago Classical Guitar Society and directs the guitar program of Northeastern Illinois University, where he is a multiple recipient of the Instructor Excellence Award. He received bachelor's, master's, and doctoral degrees from Northwestern University. Concert performances include appearances with Chicago Symphony Orchestra, Grant Park Symphony, and Chicago Opera Theater.

Tue 25 Feb

Common Knowledge
Harp and Guitar

Common Knowledge is a Chicago-based harp and guitar duo. Since 2013, harpist Michael Maganuco and guitarist Alex Sokol have created unique and eclectic musical environments that seamlessly blend a variety of genres, including jazz, Brazilian, classical, and popular contemporary. They have performed live at venues across Chicago and the North Shore, including Chicago Botanic Garden, Museum of Broadcast Communications, Michigan Shores Club, Salvage One, and Venue SIX10.

Thu 27 Feb

Jim Kendros
Piano

Jim Kendros is known as "The North Shore's Favorite Music Historian." A composer, lecturer and concert performer on many instruments, Kendros returns to the Chicago Botanic Garden with his own special brand of romantic piano. Experience his passionate playing and expressive arrangements of popular movie themes, along with his own highly lyrical originals.

Kendros is the Resident Music Historian and Pre-Concert Lecturer of the Lake Forest Symphony, and is the Pre-Concert Lecturer of the Northbrook Symphony. He is the speaker for the Elgin Symphony Listener's Club, and is the owner of Jim Kendros Music, specializing in music production.

Tue 3 Mar

David Chiriboga
Spanish guitar

David Chiriboga, a musician of Ecuadorian descent, was born and raised in Chicago. Chiriboga's style is based in flamenco and Spanish classical guitar. You can see him perform all around the Chicago area as a soloist and with his full Flamenco Cuadro group. At this performance, Chiriboga will be accompanied by a flamenco dancer.

Tue 10 Mar

Music Institute of Chicago
Chamber Music

The Academy of the Music Institute of Chicago is a pre-college training program for gifted musicians. The Music Institute of Chicago is dedicated to transforming lives through music education. Founded in 1931, the Music Institute has grown to become one of the largest and most respected community music schools in the nation. Each year, the Music Institute's teachers reach thousands of students of all ages and levels of experience. Music Institute locations include Chicago, Evanston, Winnetka, Lincolnshire, Lake Forest, and Downers Grove.

The Dasani String Quartet is coached by Mathias Tacke, former violinist of the world-renowned and Grammy-nominated Vermeer Quartet. The Dasani String Quartet is comprised of Isabella Brown and Katya Moeller, violins, Zechary Mo, viola, and Brandon Cheng, cello. The word Dasani has Indian origins and means graceful and beautiful.

Thu 12 Mar

Kerry Leung
Chinese classical

Kerry Leung is a Chinese multi-instrumentalist. He is a member of the Chinese Music Society of North America. He began his music studies at the age of 12 in China. In the Chicago area, he has been called "The Chinese One-Man Band."

In the United States, he has performed with the Peoria Symphony, at the Field Museum, and at the Ravinia Festival.

Tue 17 Mar

Chanson du Chat
Gypsy jazz

Featured members are Dave Bowers and John Papadolias on guitars, Chad Watson on upright bass, and Jim LeFager on drums and percussion. Chanson du Chat performs standards of the gypsy swing era, the Edith Piaf songbook, as well as jazz standards and original compositions.

Thu 19 Mar

Wilmette Virtuosos
Chamber Music

The Wilmette Virtuosos, under the direction of Elisabeth Hansen, is an enrichment string ensemble comprised of exceptionally dedicated orchestra students at Wilmette Junior High School in Wilmette, Illinois. Students in this ensemble received a Division I rating at the Illinois Grade School Music Association Junior High Orchestra Division and have been selected to participate in the prestigious Illinois Music Educator Association Junior High Festival Orchestra. The Wilmette Virtuosos have performed at various Chicago-area locations, including the Allstate Arena for the Chicago Wolves, Mather Place, and Northbrook Court during the holiday season.