Vice President, Visitor Experience and Business Development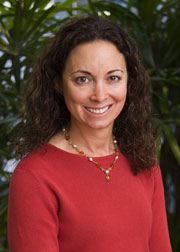 As vice president of visitor programs and business development, Harriet Resnick is responsible for programs and amenities that encompass the visitor experience, including exhibitions, fairs, festivals, concerts, demonstrations, interpretation, retail operations, food service, visitor information services, security, and parking. She also oversees the areas of private and corporate events, group visits and retail operations.
Resnick served as director of visitor operations at the Garden from May 2006 until August 2007, when she was named vice president of visitor programs and operations. Prior to joining the Garden, she served as business strategy director and budget director at the Field Museum for more than seven years, helping the museum expand its temporary exhibitions programming.
Resnick's career includes service with the city of Chicago's Mayor's Office of Budget and Management as a senior policy analyst. She also served as project manager in an initiative to create the first-ever Chicago Children's Advocacy Center, a $7-million project transforming the handling of child abuse cases by city and state departments and local hospitals. The Center now serves more than 13,000 children annually.