Vice President, Government Affairs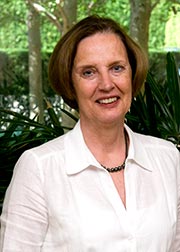 Ginny Hotaling serves as the Chicago Botanic Garden's vice president of government affairs. In this capacity, she oversees the education and cultivation of elected officials and their staff members, as well as agency personnel at all levels of government—local, county, state, and federal. Of primary emphasis is the paramount relationship between the Garden and the Forest Preserves of Cook County. The Forest Preserve is the owner of the land on which the Garden sits, and is also the Garden's largest donor.
As the Garden's efforts in plant science, education, and community outreach have grown over the last decade, it has been increasingly important to make elected officials and others aware of the Garden's leadership in these areas. In addition, the Garden has taken on an increasingly active role in legislative matters that directly affect the Garden. Hotaling has overseen the Garden's receipt of the annual appropriation from the Forest Preserves, federal appropriations, State of Illinois capital funds, and member initiatives.
Hotaling joined the Garden in 2004 after serving 12 years (1988–2000) as district director and chief of staff to U.S. Congressman John Edward Porter (IL-10th). Prior to joining Congressman Porter's staff, her first career was in education, where she served as a teacher and administrator in independent schools in the Chicago and Washington, D.C., areas. Hotaling is a graduate of Simpson College, the mother of two grown sons, and the proud grandmother of three.