Vice President, Community Education Programs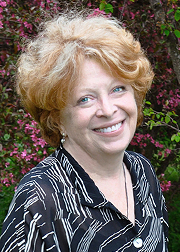 Patsy Benveniste serves as the Chicago Botanic Garden's vice president of education and community programs. In this capacity, she oversees the Regenstein School, home of preK – 12, youth and family, and adult continuing education programs, as well as the departments of community gardening and horticultural therapy, which collectively serve more than 100,000 adults, students, youth, teachers, community residents, and human service agency clients each year. As part of the Garden's commitment to serve the education, training, and wellness needs of Cook County residents in the  communities where they live, Benveniste develops strategic program resources for the Garden's extensive urban agriculture initiatives, which operate in multiple locations throughout Chicago and other satellite locations. She also serves as a Garden liaison on a variety of other community and national initiatives, including on the board of the American Public Garden Association (APGA).
Benveniste is a regular presenter at APGA conferences, has authored book chapters and articles on youth development, garden-based education, and the value of plant-rich landscapes, and was a presenter at the 2006 Bioneers conference. Before joining the Garden in 2000, Benveniste served as director of education at Lincoln Park Zoo (1995–2000). Prior to that, she was the director of corporate and foundation giving (1990–1995) at the Zoo.