What's in Bloom
What's in Bloom at the Chicago Botanic Garden
July 7, 2014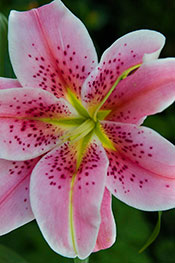 The strongly fragrant, large, rose pink flowers of Lilium 'Mona Lisa' are edged in white with a deeper colored center, flower midveins, and freckles. This cultivar naturally matures at 2 feet in height and is reliably hardy in the Chicago region.
Plant bulbs in fall or potted plants anytime during the growing season in full to partial sun in rich, well-drained soils. Keep roots cool and moist during the summer with mulch. The bright orange pollen can stain certain kinds of fabrics.
With moderate temperatures and plentiful rains, the Chicago Botanic Garden is an oasis of shady green gardens with colorful floral displays. Come out to see—and inhale—the Rose Garden, which is spectacular right now.
In the Sensory Garden, look for lettuce of the sea and check out the fragrance of the chocolate cosmos and chocolate daisy. The summer annuals display in the Circle Garden includes some gorgeous Persian silk trees. Interesting displays on the Fruit and Vegetable Garden include gigantic cabbages, potatoes in flower and the "three sisters" patch. The Prairie and Native Plant Garden are adorned with colorful gems of wildflowers, including spiderwort, false sunflower, leadwort and butterflyweed. Annabelle hydrangeas surround the Regenstein Center. In parking lot 5 and around several gardens, note the little clusters of fragrant white flowers dangling from the twigs of linden trees, a favorite of honeybees.
Enjoy a summer stroll at the Chicago Botanic Garden.