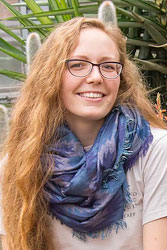 Senior Horticulturist, Greenhouses
Salina Wunderle is a senior horticulturist for the Greenhouses, which house semitropical, tropical, and arid plant collections. She is also responsible for the carnivorous plant bog, the Grainger Gallery at the Daniel F. and Ada L. Rice Plant Conservation Science Center, displays in the Visitor Center, and the seasonal bonsai collections displayed in the Runnells Courtyard and Searle Courtyard.  Additionally, Wunderle is part of the team responsible for the installation, maintenance, and tear-down of the Orchid Show and Wonderland Express seasonal displays.

Wunderle has had a passion for plants since she was a child, learning all about organic gardening from her grandfather. Her drive to get to know the natural world led to a B.S. in biology from Northeastern Illinois University. At the university, she managed the greenhouses and plant sales during her final two years, while researching regional Typha genetics. Wunderle was a farmhand on an organic CSA farm and worked in the plant retail industry. She began working at the Chicago Botanic Garden's Plant Production department in 2015.