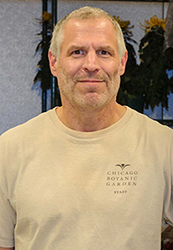 Horticulturist, Exhibitions
Brian Barker is the horticulturist for temporary exhibitions such as the Orchid Show, Lightscape, Picturing the Prairie, and the Garden's 50th Anniversary celebration. He also designs and installs the plant displays for the Krehbiel Gallery, Joutras Gallery, and the Garden Café, and helps other horticulturists with design plans for beds and special annual displays.
Barker began work at the Garden in 1983 in areas including the Graham Bulb Garden, Native Plant Garden, Aquatic Garden, and Waterfall Garden. He was a horticulture intern before being hired as a full-time employee.
He has a bachelor of science degree in horticulture from the University of Nebraska, Lincoln. He grew up on a farm in south central Nebraska that had dairy and beef cattle.