Connect with nature at the Garden!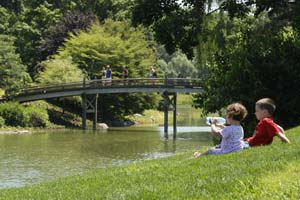 The Chicago Botanic Garden and 200 other member organizations of the Chicago Wilderness consortium are teaming up to ensure that all children experience nature firsthand.
Leave No Child Inside is an initiative focused on getting youth to spend unstructured time outside.
Leave No Child Inside, the initiative connecting kids and nature, is sponsored by Chicago Wilderness, which is a consortium of more than 200 member organizations.
Join in this growing movement to give our kids a break from the television and computers and encourage them to get outside!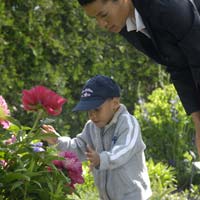 Studies have shown the importance of nature to children's healthy development. Allowing children to have unstructured time outdoors assists their growing creativity and problem-solving abilities.
Outdoor play has also been proven to ease symptoms of attention-deficit disorder. Stop the spread of nature deficit disorder—make time to explore the outdoors.
The Chicago Botanic Garden offers the perfect setting to Leave No Child Inside. The active antidote to video games, television, and the loss of green space is to take advantage of your own outdoor treasures.
Whether your children would prefer a nature walk in the woods, a class on worms, chasing kites, or dancing to music as the sun sets, the Garden is your ideal outdoor destination.
As a member of the Chicago Botanic Garden, you can take advantage of all that the Garden has to offer.