April 13 – 17, 2019 and April 27 - June 12, 2020
10 a.m. – 11:00 a.m. and 11:30 a.m. – 12:30 p.m.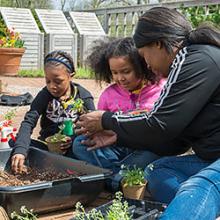 Max 4 workshops programs at each time slot.
Experience 60-minutes of hands-on plant science aligned to the Next Generation Science Standards while on a field trip at the Garden! Our trained facilitators teach age-appropriate, seasonal programs at 10:00 a.m. or 11:30 a.m. (max four simultaneous programs per time slot). Workshops include an indoor lunch space for your group after your scheduled workshop timeslot.
Workshops at the Chicago Botanic Garden must be booked a minimum of four weeks in advance, and full payment is due three weeks prior to your field trip. If you are interested in special exhibition tickets to Butterflies and Blooms, Model Railroad Garden, or a School Tram, please call our field trip registrar to purchase your tickets or if you have any registration questions: (847) 835-6801
Groups may also pay on site for Model Railroad Garden and Butterflies & Blooms at the special group rate with a copy of the field trip confirmation letter. Fee: $3 per person