Weekend Family Classes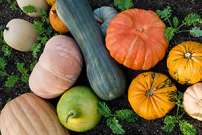 Weekend Family Class: Sensational Squash
Sunday, November 13, 2016
9:30 – 11 a.m. or 1 – 2:30 p.m.
Squash comes in so many different sizes, colors and flavors—why not give them all a try? We will explore the story of the squash, dissect and explore different types, and bake and taste their seeds and flesh. Try something new in the classroom (butternut squash soup— vegan/gluten- & nut-free) and take a recipe home to enjoy for the holidays.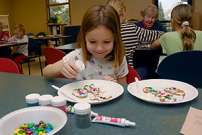 Weekend Family Class: Joyful Gingerbread
Saturday, December 3, 2016
Sunday, December 4, 2016
Saturday, December 17, 2016
9:30 – 11 a.m. or 1 – 2:30 p.m.

Join us for a revamped version of this holiday favorite class in our brand new ITW Kitchen Classroom on the Regenstein Learning Campus. Participants will make, bake, and decorate their own cookie to enjoy as well as explore all the different plants and plant parts need to make this traditional winter sweet treat.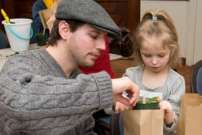 Weekend Family Class: Loco for Cocoa!
Saturday, January 21, 2017
Sunday, January 29, 2017
9:30 – 11 a.m. or 1 – 2:30 p.m.
Discover the sweet story of chocolate from bitter bean to delicious dessert. Participants will investigate the raw ingredients, taste test different types of chocolate, and practice dipping fruits and snacks into melted chocolate to make treats extra enjoyable!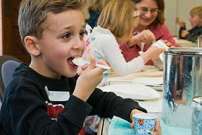 Weekend Family Class: Sweet Treats: Cold Eats
Sunday, February 12, 2017
Saturday, February 25, 2017
9:30 – 11 a.m. or 1 – 2:30 p.m.

Many of our favorite cold sweet treats get their flavors from plants. Vanilla comes from an orchid and fruits grow on bushes, trees, or vines. In this class, participants will put together (and taste!) some easy-to-make fruity treats like smoothies and flavored shaved ice and take home recipes to make at home.
Weekend Family Class: Churn It and Flip 'Em
Saturday, March 4, 2017
Sunday, March 12, 2017
9:30 – 11 a.m. or 1 – 2:30 p.m.

Your next homemade breakfast won't be the same after you learn how fun and easy it is to make your own butter! What better to way to enjoy your butter than by spreading it onto delicious buttermilk pancakes? Participants will learn about the plants used to make breakfast and take home recipes to replicate this delectable feast at home.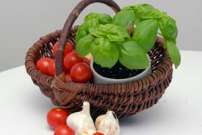 Weekend Family Class: Pizza Party
Saturday, March 25, 2017
Sunday, April 2, 2017
9:30 – 11 a.m. or 1 – 2:30 p.m.
Pizza has lots of ingredients from the garden—tomatoes, wheat, herbs, and all vegetables! Learn how these plants grow and how they are used to make pizza. Participants will plant their own herb garden to take home.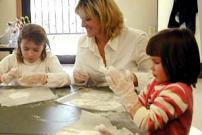 Weekend Family Class: Gumballs & Superballs
Saturday, April 8, 2017
9:30 - 11 a.m. or 1 - 2:30 p.m.

Find out how people use parts of rainforest trees to make chewing gum and rubber. Create your own bouncing ball and flavorful gum to take home. Note: This program includes the use of liquid latex. The chewing gum is vegan and nut-free.