Sunday, February 10, or Saturday, February 23, 2019
9:30 – 11 a.m. or 1 – 2:30 p.m.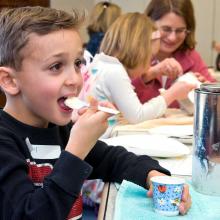 Many of our favorite cold sweet treats get their flavors from plants – vanilla comes from an orchid and fruits grow on bushes, trees or vines. In this class, participants will put together (and taste!) some easy-to-make fruity treats like smoothies and flavored shaved ice and take home recipes to make at home. This program engages the adult and child together. Due to space limitations and safety concerns, unregistered children and children 3 years old or younger may not attend this program. Each registered child may bring up to two adults.
Ages 4 – 10
ITW Kitchen, Learning Center