Sunday, November 15, or Saturday, November 21, 2020
11 a.m. - noon or 1 - 2 p.m.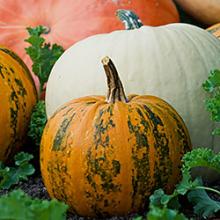 Ages 4 – 10
November is pumpkin spice season. Let's start a slow-cooker soup for dinner on cold nights, make a pumpkin-flavored dessert to taste the sweeter side of squash, and learn to make a no-caffeine pumpkin-spiced drink to warm up our hands and tummies. This 60-minute online program is for ages 4 to 10 with an adult, featuring a different theme each month. A list of ingredients and supplies you need to gather, along with a Zoom link, will be sent to you ahead of time, with suggested substitutions to accommodate allergies.