Saturday, March 16, or Sunday, March 24, 2019
9:30 – 11 a.m. or 1 – 2:30 p.m.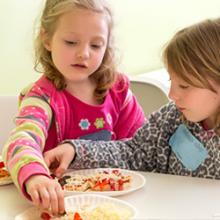 Pizza has lots of ingredients from the garden—tomatoes, wheat, herbs, and all vegetables. Learn about how these plants grow and how they are used to make pizza. Participants will plant their own herb garden to take home.
Ages 4 – 10 with an adult
ITW Kitchen, Learning Center