Sunday, March 8 or Saturday, March 21, 2020
9:30 – 11 a.m. or 1 – 2:30 p.m.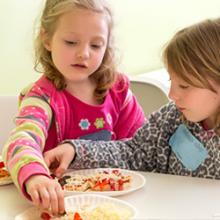 Pizza has lots of ingredients from the garden – tomatoes, wheat, herbs and all vegetables! Learn about how these plants grow and how they are used to make pizza. Participants will plant their own herb garden to take home. This program engages the adult and child together. Due to space limitations and safety concerns, unregistered children and children 3 years old or younger may not attend this program. Each registered child may bring up to two adults.
Ages 4 – 10
ITW Kitchen, Learning Center