Sunday, February 23 or Saturday, February 29
9:30 – 11 a.m. or 1 – 2:30 p.m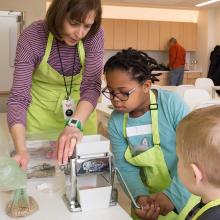 Your next homemade breakfast won't be the same after you learn how fun and easy it is to make your own butter! What better to way to enjoy your butter than by spreading it onto delicious buttermilk pancakes? Participants will learn about the plants used to make breakfast and take home recipes to replicate this delectable feast at home. This program engages the adult and child together. Due to space limitations and safety concerns, unregistered children and children 3 years old or younger may not attend this program. Each registered child may bring up to two adults.
Ages 4 – 10
ITW Kitchen, Learning Center