Saturday, January 12, or Sunday, January 27, 2019
9:30 – 11 a.m. or 1 – 2:30 p.m.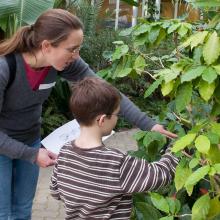 Discover the sweet story of chocolate from bitter bean to delicious dessert. Participants will investigate the raw ingredients, taste test different types of chocolate and practice dipping fruits and snacks into chocolate to make treats extra enjoyable.
Ages 4 – 10 with an adult
ITW Kitchen, Learning Center