Sunday, December 1, 8, or Saturday, December 14, 2019
9:30 – 11 a.m. or 1 – 2:30 p.m.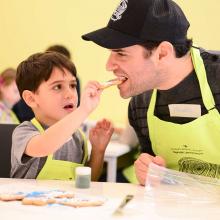 Join us for this holiday favorite class in the ITW Kitchen. Participants will make, bake, and decorate their own cookie to enjoy, as well as explore all the different plants and plant parts need to make this traditional winter sweet treat. This program engages the adult and child together. Due to space limitations and safety concerns, unregistered children and children 3 years old or younger may not attend this program. Each registered child may bring up to two adults.
Ages 4 – 10
ITW Kitchen, Learning Center