Saturday, October 24, or Sunday, October 25, 2020
11 a.m. - noon or 1 - 2 p.m.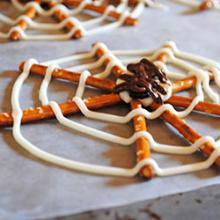 Ages 4 – 10
Celebrate Halloween cooking up your own scary treats with a little less sugar. We will make banana ghosts (yogurt-covered bananas) and pretzel spider webs using melted chocolate. This 60-minute online program is for ages 4 to 10 with an adult, featuring a different theme each month. A list of ingredients and supplies you need to gather, along with a Zoom link, will be sent to you ahead of time, with suggested substitutions to accommodate allergies.