Saturdays: 5/18/19, 6/15/19, 7/20/19, 8/10/19
9:30 – 10:30 a.m. or 11 a.m. - noon

Thursdays: 9/12, 10/10, 11/7, 12/12
Fridays: 9/13, 10/11, 11/8, 12/13
Saturdays: 9/14, 10/12, 11/9, 12/14
9:30 – 10:30 a.m. or 11 a.m. – noon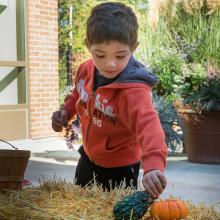 May:
It's going to be a sensational sensory-filled summer as your "little diggers" touch, taste, and smell their way through the Garden. This four-class series for children ages 2 to 4 with caregivers meets Saturday mornings once a month May through August. Each program includes hands-on seasonal activities, planting, outdoor time, and free-play.

September:
Learn about weather and what happens to the leaves and trees as we explore the changing seasons together. This four-class series for children ages 2 to 4 and their caregivers meets mornings, once a month. Program includes hands-on seasonal activities, planting, outdoor time and free-play. Select Thursday, Friday, or Saturday mornings, September through December.

Ages 2 – 4 with an adult
Classroom 11, Learning Campus
Registration Guidelines
To make Little Diggers enjoyable and fair to all, please do not bring unregistered children, including siblings, to programs. Siblings must wait until they are 2 years old to register. Nursing mothers or parents with infants 6 months and younger may call (847) 835-6826 to make special arrangements. Thank you.
Age & Enrollment
Our program is designed to be accessible at multiple levels for children ages 2 through 4. For all programs, age requirements will be as of the date of the first class. Age requirements are set to benefit the children and make instruction more consistent.
Each program has space for a maximum of 10 children accompanied by one adult each. Please call (847) 835-6826 if you have multiple children within the age range. Program will be cancelled unless the minimum enrollment of five children is met (see Cancellation Policy for more information).
Attire
Please dress for the weather. Participants should wear clothes that are comfortable for outdoor and indoor activities, and hands-on, sometimes messy fun.