Exhibitions
In addition to horticultural displays, the Garden presents a wide variety of exhibitions, including fine photography and an array of artwork. Click here for a map of the Garden's Regenstein Center, where most exhibitions take place.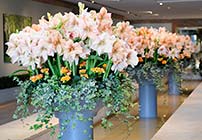 Krehbiel Gallery Plant Displays
The year gets off to a colorful start with bowls of amaryllis followed by the bright yellow and fragrant branches of canary broom contrasted with deep blue anemone poppies. The spring months bring tall flowering spikes of forced perennials such as foxglove, larkspur, and lupines, and a brief appearance of the fragrant, purple-boughed wisteria trees. In the summer, the pool is filled with a variety of tropical foliage and flowers. In the fall, the gallery is filled with baskets of cascading and specialty mums.
March 21 - April 6, 2015
Joutras Gallery

See the Chicago Botanic Garden in a new light! In this exhibition, photographs of the natural world feature the work of Garden Photographic Society members. Their remarkable images capture fleeting moments of beauty—from the morning mist to the first spring bloom. Society members have held their meetings at the Garden for more than 30 years, appreciating it as a special place to perfect their craft.
Photograph by Marty Behn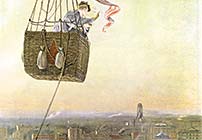 Chicago and Its Botanic Garden
May 2 – August 16, 2015
Joutras Gallery
Founded in 1890, the Chicago Horticultural Society celebrates its 125th anniversary in 2015. When the Society created the Chicago Botanic Garden more than 40 years ago, it launched not only one of the world's most inspiring living museums but a leader in plant education, conservation, and research. Don't miss the special 125th anniversary exhibition in Joutras Gallery.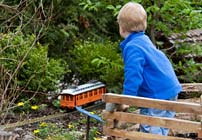 May 9 – October 25, 2015
10 a.m. – 5 p.m.
June 10 – August 26, 2015
Extended hours on Wednesdays only until 8 p.m.

The 7,500-square-foot Model Railroad Garden: Landmarks of America exhibition features trains running on 1,600 feet of track. The garden-scale trains are 1/29th the size of life-size trains. Train and garden enthusiasts, young and old, return year after year for the delightful sights and sounds of the miniature trains traversing high and low through tunnels, across bridges, and around buildings.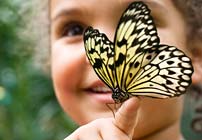 May 23 – September 7, 2015
10 a.m. to 5 p.m. daily, weather permitting
The Butterflies & Blooms exhibition is a butterfly exhibition where visitors can immerse themselves in a habitat filled with hundreds of live butterflies. This exhibition is filled with species native to South America, Asia, North America, and Africa, as well as those native to Illinois. For the 2015 season, the 2,800-square-foot white mesh enclosure is located on the Annex Road, as you head out from the Visitor Center to McDonald Woods.
Thursday, November 5, 2015, 6:30 – 9 p.m.
Friday – Sunday, November 6 – 8, 2015, 10 a.m. – 5 p.m.
Stunning quilts, lovely knitted artwear, woven wonders, and breathtaking beadwork are among the abundant handcrafted items on view and for sale during the Fine Art of Fiber, held at the Garden's Regenstein Center. The area's oldest, largest, and most unique fiber art event, the Fine Art of Fiber is hosted by Illinois Quilters, Inc., North Suburban NeedleArts Guild, and the Weavers Guild of the North Shore. A complimentary opening night, including early buying privileges, is from 6:30 to 9 p.m. Thursday evening.