Indoor spaces offer year-round locations for your meeting or special event. For additional images of the spaces, visit our gallery.
McGinley Pavilion
This dramatic canopied terrace is a breathtaking setting for a summer party, dance, meeting, or reception.
Located at the water's edge across from the Garden's Theodore C. Butz Memorial Carillon, McGinley Pavilion is available for rentals from May through October (heaters and clear side walls are available).
McGinley Pavilion's Waterfront Patio has spectacular views of Evening Island.
CAPACITY
Sit-down dinner with dance floor
230
Sit-down dinner
270
Cocktail reception
350
Wedding ceremony
125
Theater
148
Classroom
96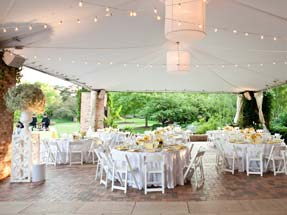 Pullman and Linnaeus Rooms
The ideal location for meetings or intimate seated dinners for up to 70 people, these rooms are adjacent to the Krehbiel Gallery and have beautiful views of the Garden's Esplanade and North Lake.
The Linnaeus and Pullman Rooms house the Garden's permanent botanical art collection, offer audiovisual capabilities, and are available throughout the year.
CAPACITY
Sit-down dinner or meeting with round tables
70
Cocktail reception
70
Theater
75
Classroom
30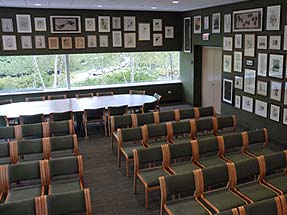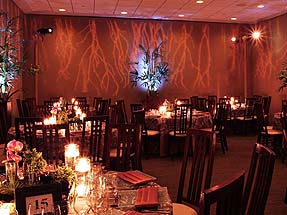 Nichols Hall
Designed by Edward Larrabee Barnes, this grand indoor space features a dramatic two-story skylight and Canadian hemlock walls and ceiling.
A distinctive, grand indoor space ideal for gala events, Nichols Hall accommodates up to 350 guests.
CAPACITY
Sit-down dinner with dance floor
275
Sit-down dinner
300
Cocktail reception
400
Wedding ceremony
275
Theater
350
Classroom
275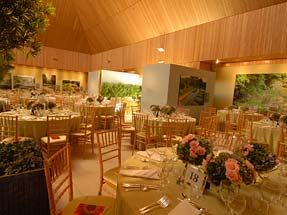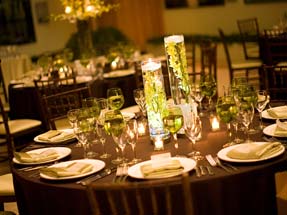 Burnstein Hall
Burnstein Hall is an airy room with garden views and access to Runnells Courtyard, which features the Garden's renowned Bonsai Collection; it provides a lovely backdrop for dances, dinners, or meetings of up to 220 guests. Available year-round.
CAPACITY
Sit-down dinner with round tables
210
Sit-down dinner with dance floor
150
Cocktail reception
220
Theater
150
Classroom
76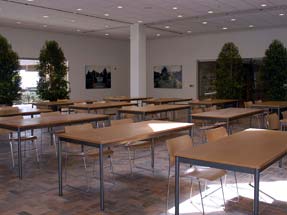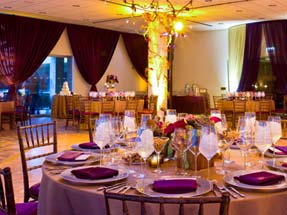 Krehbiel Gallery
With its Kasota stone reflecting pool, the Krehbiel Gallery provides a serene setting for guests during cocktails or at a seated dinner.
This indoor site serves as the Garden's premier art exhibition display space and provides a beautiful alternative to outdoor garden areas. The Krehbiel Gallery can be reserved for either a small dinner party or a cocktail reception as an enjoyable prelude to dinner in Nichols Hall or McGinley Pavilion. Evenings only, September through May.
CAPACITY
Sit-down dinner
75
Cocktail reception
275
Wedding ceremony
200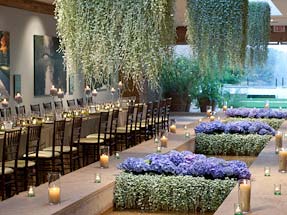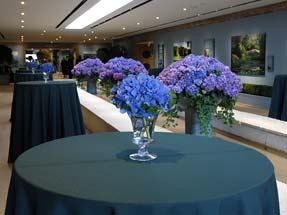 Alsdorf Auditorium
This modern theater with comfortable fixed seating for 200 is perfect for lectures, meetings, or media presentations and can be rented in all seasons. (Twenty-five additional seats can be added.) It features audiovisual equipment, a podium with remote capabilities, and a stage computer connection. Food and beverages are not permitted. Available year-round.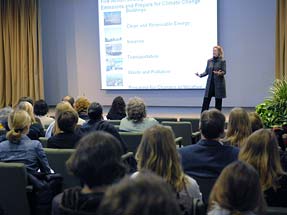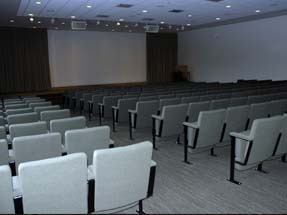 Boyer Room
This newly decorated space, conveniently located in the Visitor Center, can serve as a party or meeting room. Adjacent to the Garden View Café, its windowed wall accesses the Café deck, with views of the Garden. Available year-round.
CAPACITY
Sit-down dinner with round tables
60
Cocktail reception
80
Theater
50
Classroom
18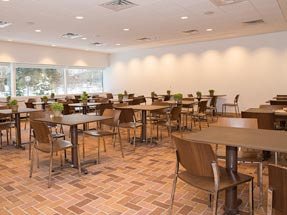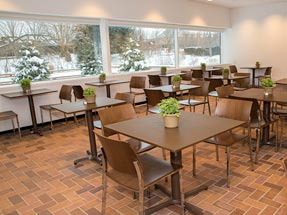 Lakeside Room
Our newest event room, conveniently located in the Visitor Center, can host your next party or meeting. The Lakeside Event Room overlooks our Lakeside Deck, offering a beautiful view of the Smith Fountain. Available year-round.
CAPACITY
Classroom
20
Theater
40
Banquet with round tables
40
Meeting with round tables
40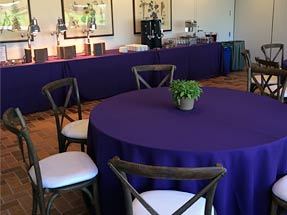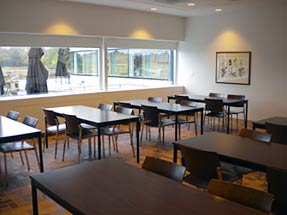 Plant Science Center
The award-winning Daniel F. and Ada L. Rice Plant Conservation Science Center features science laboratories, meeting rooms, and two notable garden areas: the Woman's Board of the Chicago Horticultural Society Rainwater Glen and the Green Roof Garden.
Plant Science Center Seminar Room
CAPACITY
Meeting with round tables
50
Theater
60
Classroom
30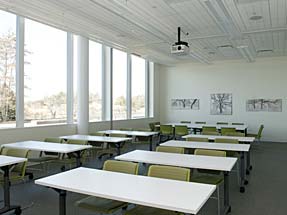 Green Roof Conference Room
CAPACITY
Board-room
12
Theater
60
Classroom
30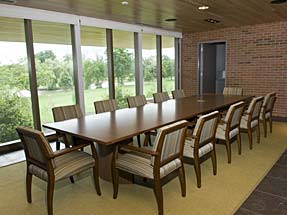 Grainger Gallery Atrium
CAPACITY
Sit-down with rounds
100
Theater
100
Classroom
250