Join us on Friday, November 30, 2018 for another memorable evening.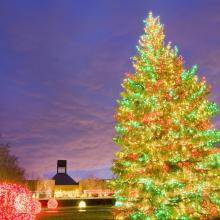 View 2017 Photos

Over 300 guests joined the Woman's Board of the Chicago Horticultural Society for the twelfth annual All Aboard! gala dinner amid the festive setting of Wonderland Express, the Garden's indoor holiday exhibition. Tutti a bordo! for a holiday journey through Italy.

Thank you to our co-chairs Marcy Johnson and Mary Alice Miller for a lovely evening.

Proceeds from All Aboard! ensure that the Garden continues to protect biodiversity, connect people with plants, and move forward with thriving research and programs that support our mission: We cultivate the power of plants to sustain and enrich life. For more information about the Woman's Board or All Aboard!, call (847) 835-6958.