December 1, 2017 at 6:30 p.m.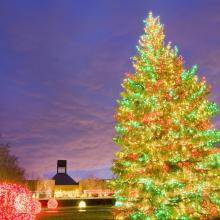 Tickets for the event begin at $450. Table packages are available.
The Woman's Board of the Chicago Horticultural Society presents the twelfth annual All Aboard! gala dinner amid the festive setting of Wonderland Express, the Garden's indoor holiday exhibition. Tutti a bordo! for a holiday journey through Italy.

All Aboard! is co-chaired by Marcy Johnson and Mary Alice Miller. The holiday journey begins with a cocktail reception, raffle, and Wonderland Express access at 6:30 p.m. followed by dinner, drinks, dessert, and live music. You will not want to miss the raffle, which features an American Airlines premium-class flight for two to Rome and a one-week stay at a stunning private estate in Umbria, Italy. American Airlines is the official airline of the Chicago Botanic Garden.

Proceeds from this event ensure that the Garden continues to protect biodiversity, connect people with plants, and move forward with thriving research and programs that support our mission: We cultivate the power of plants to sustain and enrich life.

For more information about the Woman's Board or All Aboard!, call (847) 835-6833.