Available online August 16 – September 28, 2019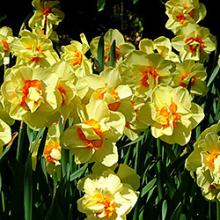 Div. IV Daffodil – Double

Blooms: April – May
Height:  14-16"

Tahiti's elegant double flowers with a blend of yellow and orange open to a rose-like bloom. This bulb is featured in the English Walled Garden and has proven to be a sturdy, reliable bulb year after year.
Orders must be received by September 28 to be picked up October 4 to 6, 2019 from 10 a.m. to 4 p.m. in the Regenstein Center during the Fall Bulb Festival. Bulbs are subject to availability and substitutions are not allowed. Orders cannot be shipped. All sales are final.