Available online August 16 – September 28, 2019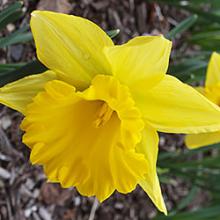 Div. I Daffodil – Trumpet

Blooms:  February – March
Height:  12-14"

The earliest trumpet to bloom, often in February, this variety holds up very well in inclement weather. It is easily forced and very reliable.
Orders must be received by September 28 to be picked up October 4 to 6, 2019 from 10 a.m. to 4 p.m. in the Regenstein Center during the Fall Bulb Festival. Bulbs are subject to availability and substitutions are not allowed. Orders cannot be shipped. All sales are final.