Friday and Saturday, March 27 and 28, 2020
11 a.m. or 1 p.m.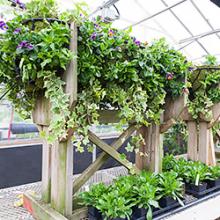 $10 per person
Members only
Members-only event. Join our expert Chicago Botanic Garden staff for an informative behind-the-scenes tour of our production greenhouses and nursery.
Garden members are invited to the new Kris Jarantoski Campus to discover what goes on behind the scenes, where 250,000 plants annually make their way through our brand new plant production facilities. Visit our state-of-the-art greenhouses and view our spring flowers before they are planted in the Garden.

Participants will meet at the south end greenhouse. The security gate at the north end of the east road will be lifted for access to this area. Parking will be on the east side of the production greenhouse.

Please wear comfortable shoes and dress for the weather. You must be able to walk and stand for about an hour. There is no seating along the way. Registration is required, as space is limited. Call (847) 835-8215 if you have any questions.