Saturday, October 31, 2020
11 a.m. to 1 p.m.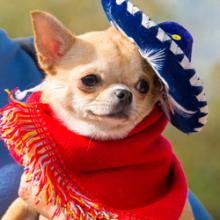 Tickets in advance (purchased on or before October 30): $17/$22
Day-of tickets (purchased on October 31): $23/$28
For two very special hours only, dogs are allowed in the Chicago Botanic Garden. Cleverly costumed canines march the parade route to celebrate Halloween. Spectators are invited to line the parade route for a barking good time. Note: Viewing the dog parade is free. If you are bringing a dog, however, you must purchase paid registration for your dog, whether or not you enter the parade and costume contest.
In addition to the parade, activities include the costume contest, judging, and an awards ceremony. Costume categories include Best Costume Overall, Best Dog/Owner Costume, Best Puppy in Costume for dogs ages 1 and under in people years, Best Senior in Costume for dogs ages 10 and older in people years, and Best Horticultural Interpretation.