Friday, April 17, 2020
6 – 9 p.m.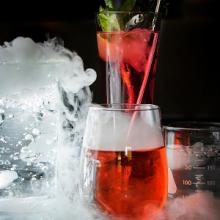 Advance: $8/$10
Day-of: $11/$13
Adults get their chance to take part in festival activities in a fun atmosphere with themed cocktail drinks and food available for purchase. Be a kid again and geek out on science and explore the world of flora, fauna, fungi, food, and evolution. Mix a soil sample, explore different live plant roots, help build a forest, test the pH in a hydroponics growing system, and tap your inner artist in our botanical art studio. Use biofeedback technology to create your own "Brainscape," immerse yourself in a found-object art installation, and shape the landscape with an AR (Augumented Reality) sandbox. Meet some of the Garden's scientists and horticulturists, too. 
Usual parking fees apply.