Wednesday, October 28, 2020
7 – 8 p.m.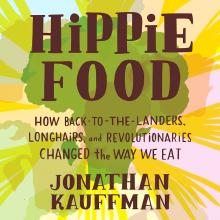 Free online program; preregistration required.
Take part in the Garden's popular One Book One Garden program as we read Hippie Food: How Back-to-the-Landers, Longhairs, and Revolutionaries Changed the Way We Eat by Jonathan Kauffman. This entertaining book chronicles the way that then-radical eaters in the 1960s and '70s shaped the way that Americans eat today. From avocado toast to brown rice, Hippie Food explores the ties between food, culture, and politics, as well as the people who brought these issues into focus. A limited number of copies are available at the Garden Shop (Garden members receive a 10 percent discount).
Register for a free online book discussion on Wednesday, October 28, from 7 to 8 p.m. (space is limited so please register early). Those with confirmed registration will be sent a link to the Zoom discussion about a week before the program.