Thursday, March 26, 2020
6:30 – 8 p.m.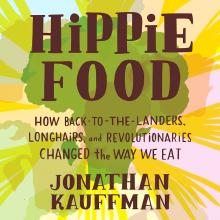 Free program; preregistration required, regular parking fees apply.
Lenhardt Library, Regenstein Center
Join us for our One Book One Garden discussion featuring Hippie Food – How Back-to-the-Landers, Longhairs, and Revolutionaries Changed the Way We Eat by Jonathan Kauffman. This entertaining book chronicles the way that then-radical eaters in the 1960's and 70's shaped the way that Americans eat today. From avocado toast to brown rice, Hippie Food explores the ties between food, culture, and politics as well as the people who brought these issues into focus.
Jonathan Kauffman is a line cook turned journalist. His work as a restaurant critic and reporter for the San Francisco Chronicle and the New Yorker, among other publications, has achieved wide acclaim. Kauffman's writing focuses on the ways that food and culture intersect, engaging readers in topics like gentrification, foodie Instagram, and American-Chinese food.
Copies of Hippie Food are available at the Garden Shop and Lenhardt Library. (Garden members may check out books from Lenhardt Library.)
Read the book and come to the Garden for a group book discussion. Our discussion will be led by Mary Plunkett, retired Chicago Botanic Garden manager of Interpretive Programs and Stacy Stoldt, manager of Library Public Services and rare book specialist. Selections from the Lenhardt Library's Rare Book Collection will be available for viewing. Please register early as space is limited.