Sunday, May 13, 2018
Seatings at 9 a.m., 11 a.m., 1 p.m.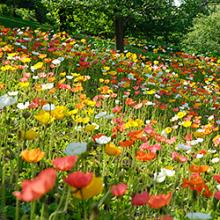 Adults: $56.95/$64.95
Children (3-12 yrs): $26.95/$29.95
Children (2 and under): Free
Price includes parking, taxes, and gratuity.

Please note: Mother's Day Brunch will take place in the Regenstein Center Nichols Hall due to inclement weather.

Pamper mom with spring flowers and family time on Mother's Day at the Chicago Botanic Garden. Enjoy an elegant and sumptuous brunch at the Garden and spend the rest of the day viewing all that spring has to offer. The all-you-can-eat buffet includes a carving station, made-to-order omelets, and an abundance of fresh, delicious selections; afterward, take a walk to the Regenstein Fruit & Vegetable Garden to see where our organic produce is grown.
Tables accommodate ten to 12 guests, and each seating will have fewer than 200 people, which will allow families to enjoy a leisurely and comfortable brunch. Parties of eight or fewer may share a table with other guests. Families of all ages will find the beautiful Greenhouses and outdoor garden spaces wonderful to explore before and after their brunch seating.
Family Portrait Sessions Available
For those attending the brunch, photographer Julie Kaplan—named best photographer by Make It Better magazine for three years—is offering family portraits for an additional fee. The sitting charge is $100 for a ten-minute session and one fully edited digital file of your photo choice, paid in advance. Package prices start at $125. An online viewing gallery will be available two weeks after the event.

Photos will be taken outdoors at the Chicago Botanic Garden, weather permitting. Sessions will be moved indoors if weather is inclement.
Register for a family photo session.
Valet parking
Valet parking will be available on Mother's Day, May 13, from 9 a.m. to 5 p.m. a $10 per vehicle; $5 for seniors and those with disabilities. Regular parking fees apply. Valet is free for President's Circle members. Pick-up and drop-off in parking lot 1.