November 13, 2020 – January 3, 2021 (select dates)
4:30 – 10 p.m. / 4:30 – 11 p.m. select Fridays & Saturdays
Closed Nov. 26, Dec. 24 & 25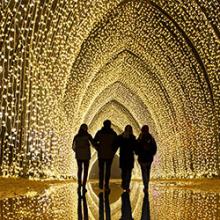 Price is dependent on the day you choose to attend.
Standard:
Adult: $24/$26
Child 3-12: $12/$14
Premium:
Adult: $26/$28
Child 3-12: $13/$15
Child under 3: free
Tickets purchased the day of the event are an additional $2 per ticket
Light up your holiday season with a captivating world of light, color, and sound. Walk through the sparkling Cathedral of Light, watch lights glimmer and dance in the Field of Light, and tune in to the playful choir of singing trees.
Tickets for this event are timed in 15-minute increments to stagger visitors for a better experience. However, the event is open until 10 or 11 p.m. each night so you may stay until then and enjoy the event. No refunds. Exchanges are allowed, but subject to a $7 fee per exchange transaction. This fee applies to both members and nonmembers. Please contact the Customer Call Center at (847) 835-6801 to process. Tickets are subject to availability.
Strollers are allowed. Side-by-side strollers are acceptable, but for best path experience, we suggest single or front-to-back strollers.
Buy your parking in advance and save 50 percent: $10 per vehicle in advance, $20 if purchased upon arrival. Members always park for free.
Tickets are sold out: Nov. 15-Dec. 23. Best availability: Nov. 13-14 & Dec. 26-Jan. 3.