Sunday, April 21, 2019
Seatings at 9, 10, and 11 a.m., noon, and 1 p.m.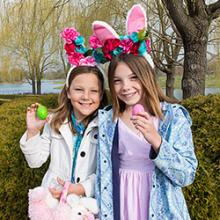 Adults: $38/$43
Children (3–12 yrs): $27/$32
Children (2 and under): free
Members pay the lower price listed.
Price includes parking, taxes, and gratuity.
Celebrate spring and enjoy a festive Easter brunch at the Garden in Nichols Hall at the Regenstein Center. Bring a basket and hop to the Krasberg Rose Garden after brunch, and join in the Easter egg hunt before taking a stroll to explore the vibrant colors and spring blooms.
Family members of all ages will find the beautiful Greenhouses and outdoor garden spaces wonderful to explore before and after their brunch seating.
Menu

Main Dishes:
Fluffy Scrambled Eggs
Spring Vegetable Frittatas
Apple Wood Smoked Bacon / Pork Sausage Links
Tater Tot Casserole
Silver Dollar Pancakes with Maple Syrup and Butter on the Side
Carving Station -- Roast Turkey Breast with Herb Jus & Glazed Ham
Baked Macaroni and Cheese
Broccoli, French Beans and Honey Glazed Carrots
Home Made Mashed Potatoes

Chef Choice Desserts

Salads:
Fruit Medley
Tossed Garden Salad: romaine, iceberg, spring mix, radishes, carrots, cucumber
Salad Dressings: White Wine Italian Vinaigrette/Creamy Ranch Dressings/Red Wine and Extra Virgin Olive Oil
Rainbow Rotini, Roasted Artichoke, Ripe Olive & Pesto
Caesar with Parmesan Croutons

Assorted Pastries & Quick Breads

For Purchase:
Garden Delight Bloody Marys, Mimosas, and Cranberry Champagne Cocktails
Canned Soft Drinks

For special seating accommodations or allergy requests Contact Customer Service at 847-835-6801.