The Auxiliary of NorthShore University HealthSystem has made the difficult decision to pivot the American Craft Exposition from live to virtual for 2021.  You can visit americancraftexpo.org for more information.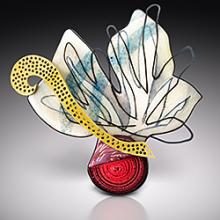 Passionate about the arts? This one's for you. This highly competitive juried show and sale of fine craft features one-of-a-kind handcrafted artwork and luxury collections from the country's leading craftspeople. Meet some of the country's top artists—along with selected emerging artists—in 12 media, including jewelry, ceramics, metal, glass, leather, and baskets.
Support the cause. Proceeds will support an initiative to protect and preserve the health of pregnant and postpartum women at NorthShore.
You can't beat the setting. Take a break from the show and check out the early fall colors on 385 acres at the Garden: gold katsura trees, garnet chrysanthemums, burgundy smoke tree, purple-copper eastern ninebark, and more.
The Greenhouses are closed during the ACE show. For safety reasons, strollers are not permitted in the show.