Friday – Sunday, October 2 – 4, 2020
10 a.m. – 6 p.m. Friday and Saturday
10 a.m. – 5 p.m. Sunday
Benefit Preview: Thursday, October 1, 6 – 9 p.m.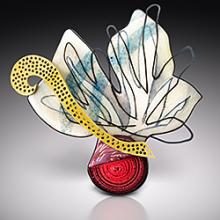 Ticket and parking combination offers are only available online.
Children under 12 enter free.
2 ACE Tickets + Parking: $55 (Save $15)
Two three-day tickets, a one-day parking pass for one vehicle, and expedited ACE entry
1 ACE Ticket + Parking: $35 (Save $15)
One three-day ticket, a one-day parking pass for one vehicle, and expedited ACE entry
1 ACE Ticket: $18 member/$20 nonmember
One three-day ticket
Regular parking fees apply for nonmembers.
Passionate about the arts? This one's for you. This highly competitive juried show and sale of fine craft features one-of-a-kind handcrafted artwork and luxury collections from the country's leading craftspeople. Meet some of the country's top artists—along with selected emerging artists—in 12 media, including jewelry, ceramics, metal, glass, leather, and baskets.
Support the cause. Proceeds support increased access to psychiatric services at NorthShore University HealthSystem through the creation of a Psychiatric Urgent Care Program and the implementation of a collaborative care model for providing mental health services to families.
You can't beat the setting. Take a break from the show and check out the early fall colors on 385 acres at the Garden: gold katsura trees, garnet chrysanthemums, burgundy smoke tree, purple-copper eastern ninebark, and more.
The Greenhouses are closed during the ACE show. For safety reasons, strollers are not permitted in the show.