Friday, November 30, 2018
6:30 p.m.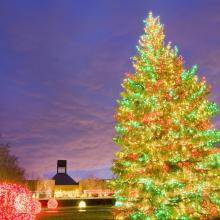 The Woman's Board of the Chicago Horticultural Society presents the thirteenth annual All Aboard! gala dinner amid the festive setting of Wonderland Express, the Garden's indoor holiday exhibition. All Aboard! is co-chaired by Nicole Peterson and Katie Ford. The holiday journey begins with a cocktail reception, raffle, and Wonderland Express access at 6:30 p.m., followed by dinner, drinks, dessert, and live music. Proceeds from All Aboard! support Windy City Harvest, the Garden's urban agriculture, education, and jobs-training initiative. This program serves to help grow a local food system, create healthier communities, and build a greener economy.
Tickets for the event begin at $450. Table packages are available.
For more information about All Aboard!, call (847) 835-6830.