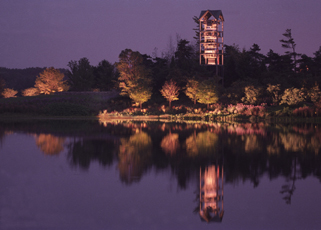 The Grand Illumination Of Evening Island
At twilight, June 6 – September 7, 2015
As the sun sets every evening, spectacular lights illuminate Evening Island, casting a magical glow upon the lakeside waters.
Enjoy family-friendly summer hours for Chicago's best early morning walks and sunset strolls. Come back all summer long for exciting after-hours events, family activities, and outdoor dining at the Evening Grille, open daily.
The Chicago Botanic Garden will be open from 7 a.m. to 9 p.m. June 6 through September 7, 2015, so that visitors can stay just a little bit longer.