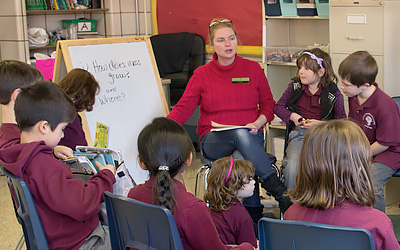 Off-site presentations are designed to be held in conjunction with your school or organization's larger evening or weekend programs. Examples include Parents' Nights, Environmental Fairs, Science Nights, or STEM Fairs that are aimed at elementary and middle-school age children and that typically serve multi-generational audiences. Our goal is to enrich your program as well as to promote the Chicago Botanic Garden's educational activities on-site.
To discuss pricing and availability, contact the program coordinator at (847) 835-8239. Please note: There is limited availability during the Garden's high season, from April through October.
If you are a teacher looking for a program in your classroom, check out our Traveling Plant Science Teacher program.