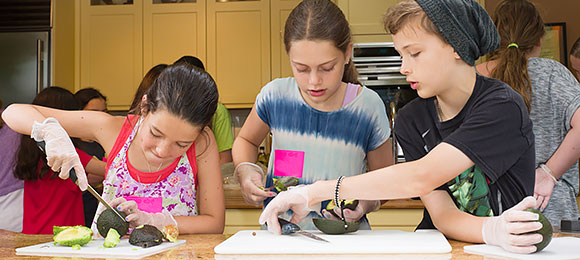 Cooking classes and art classes are fun at the Regenstein School of the Chicago Botanic Garden in Glencoe, Illinois.

Remember when students took home economics, shop, and art classes in junior high? These classes taught valuable life skills and gave young people a fresh perspective on their aptitudes, future careers, and personal interests. We're bringing these classes back, Garden style. Starting with cooking and art classes in our new Regenstein Learning Campus this fall, we plan to offer a variety of programs for middle-school age students to keep plants and gardens relevant in their lives.
Healthy Cooking for Kids: Homemade Pasta & Sauces
Sunday, April 30, 2017: Linguini and pesto sauce
Sunday, May 7, 2017: Bowties and cheese
Sunday, May 21, 2017: Cheese ravioli and lemon herb butter sauce
1 – 4 p.m.
ITW Kitchen, Learning Center
$50/$40 (includes materials fee) per class

An experienced kids' culinary instructor will teach young teens some basic food-preparation techniques as they follow recipes using healthy ingredients from a garden. Each week, students will make a different pasta and sauce.

Color Theory & Painting
Saturdays, April 1 – 29, 2017
1 – 3 p.m.
Classroom 9, Learning Center
$200/$160 (includes materials fee)

Color in art is more than meets the eye. Join us as we explore the theory of color, discover how the eye perceives color, investigate the history of the names of colors, and much more. Students will try their hand at color mixing, pointillism, and end their term with an acrylic canvas masterpiece, all inspired by the Garden.