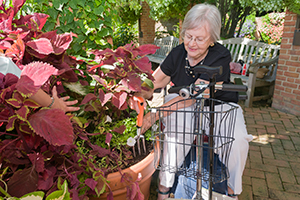 Healthcare Garden Design Certificate Seminar
$149 | Alsdorf Auditorium
$129 before April 5, 2017
Wednesday, May 10, 2017
9 a.m. – 5 p.m.
GDC elective
In a healthcare environment, gardens provide a sense of order, safety, and privacy for those coping with illness. During this seminar, industry leaders will present the latest research demonstrating the benefits of healthcare gardens, while providing an introduction to the tools needed to effectively design, manage, and evaluate such gardens. Fee includes morning coffee and lunch. This program is registered with the American Society of Landscape Architects for continuing education credit. Registrations made after Wednesday, May 3, are not eligible for the lunch option.