The plant collections of the Chicago Botanic Garden have a new place to show off in a "theater" designed just for them in the Helen and Richard Thomas English Walled Garden.
Plant theater is a traditional English presentation of exceptional plants, such as snowdrops and primroses, that are potted and placed on tiers of shelves. "It's an old-school way of displaying specific plants and it will highlight some of the Garden's collections," said senior horticulturist Heather Sherwood, who oversees the English Walled Garden.
Plant theaters have long been popular in Great Britain as a way to organize and present pots of flowering annuals, perennials, and herbs. The "theater" typically has three to five shelves made of wood or metal, sitting on the ground or attached to a wall.
The Garden's plant theater was crafted by staff and features ornamental wooden shelves that rest on legs. The plants are grown in clay pots and will be labeled. The display began in April with grape hyacinths (Muscari). "We have three shelves with 15 different types of Muscari," Sherwood said, including those with pale blue, violet, white, or pink flowers.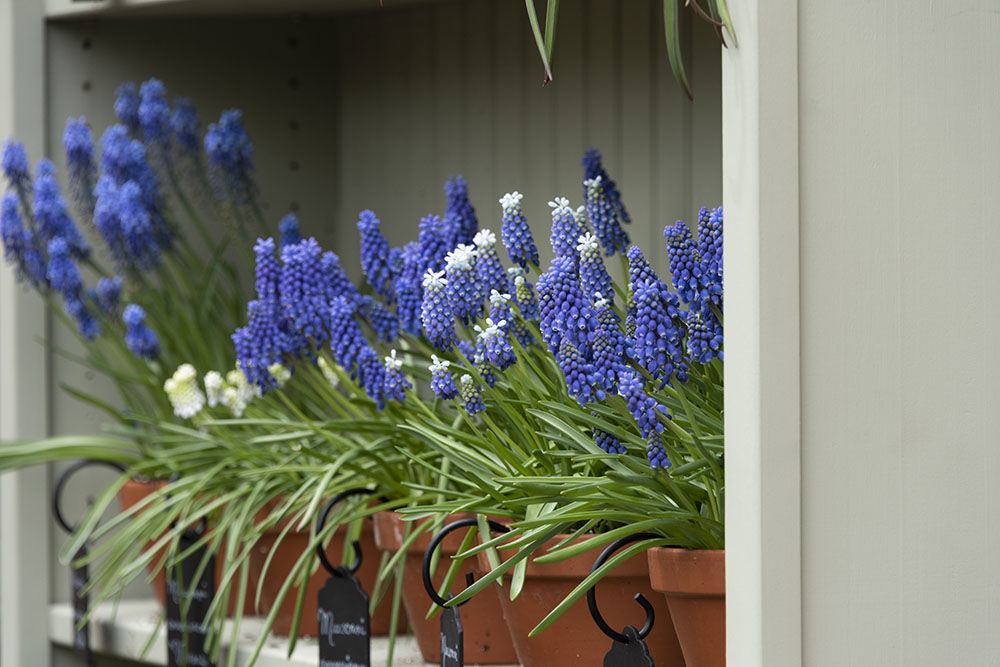 The plant theater was a collaboration between the Garden's curatorial and horticulture staff. "We have all these fascinating plant collections that we're still building," Sherwood explained. Soon, pots of annual geraniums (Pelargonium) will take the stage. "They are species that are also coming from our collections. In general, the geraniums on display may have a smaller stature, smaller leaves, some are scented, and some are miniature."
Come August, succulents such as Echeveria will put on a performance. "They are extremely popular right now," Sherwood said. "That's another collection that we're growing, and this is one of the different ways we can display them. They have a great range of color—they are low maintenance, but have high visibility. I'm super excited."
Violas will take the display into autumn. "The flowers will be smaller than the traditional pansy, but the plants will have more flowers," Sherwood said. The dainty frost-tolerant plants will likely be on display through late October.
Getting all of the plants to bloom at certain times requires meticulous planning. "We have a fantastic production department," Sherwood said, and they will coordinate the best times for the plants to be replaced with new ones, four times a year. The potting soils will vary as well. Echeveria needs very gravelly soil while the Muscari and geraniums will go in regular potting mix.
 "We've been planning this for a year," Sherwood said. "Seeing it come to fruition, as a horticulturist, is wonderful."
Title:
Garden writer and horticulturist