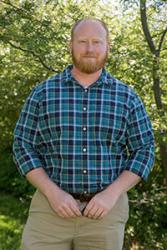 Director of Plant Collections
As the director of plant collections at Chicago Botanic Garden, Douglas manages a diverse collection of plants and participates in plant collecting expedition work around the globe. Douglas also oversees the Garden's plant breeding and introduction program: Chicagoland Grows, the plant evaluation program, and the living plant documentation department. Douglas is a member of the International Oak Society, International Plant Propagators Society, American Public Garden Association, and International Dendrology Society.
A native Kentuckian, Douglas began his career in horticulture working for the historic Spring Grove Cemetery and Arboretum in Cincinnati, Ohio, and then as the Director of Horticulture for Gainesway Farm in Lexington, Kentucky. He received a bachelor of science in horticulture from the University of Cincinnati, and a masters of public administration from Eastern Kentucky University.