Dear President's Circle Member,
I was happy that so many of you were able to join me at the State of the Garden address on May 10. The Chicago Botanic Garden had a superb year in 2013. Much of our progress was possible because of Garden friends like you, who are invested—literally and figuratively—in everything about the Garden: who we are, how are doing, and where we are going. Thanks to your support, we made significant advances in completing the capital goals of our ten-year strategic plan, "Keep Growing," now in its fifth year. You can read about all of these projects on the strategic plan website, but with the warmer weather, you can also monitor progress on one of them yourself.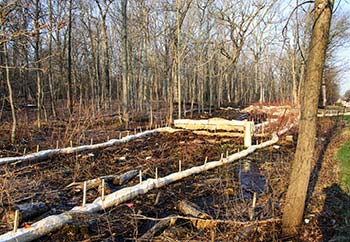 Last month we began building a multiuse trail to connect the North Branch Trail with the Green Bay Trail at the Braeside Metra station in Highland Park. This project was made possible through the generous support of the Illinois Department of Transportation, the Forest Preserves of Cook County, and the Litowitz Family Foundation. I'm sure you that each time you enter the Garden you notice the temporary orange web fencing, and often see work crews busily constructing the trail leading from our entrance eastward along Lake Cook Road and across Green Bay Road. Pedestrians and bikers will rejoice when the trail is finished in August—I know I can't wait to go for my first bike ride on it!
Every day the colors, textures, and fragrances of the Garden grow more intense, and events for President's Circle members reflect the growing season's excitement. I look forward to seeing you soon, both at these special events and within the Garden, where there's always something new in bloom.

Best regards,
Sophia Shaw