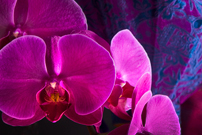 After-Hours Photography Experience at Asia in Bloom
Wednesday, February 28
Enjoy photographing orchids without the crowd, and discover the magic of Asia in Bloom: The Orchid Show at night from 5 to 7 p.m. or 7:30 to 10 p.m. Robin Carlson, the Garden's staff photographer, and Jack Carlson, CPA-certified photography instructor who teaches at the Joseph Regenstein, Jr. School of the Chicago Botanic Garden, will share their expertise and help you become your own creative lighting director. Bring your own camera and gear. Light refreshments will be served. This event is complimentary for President's Circle members, but reservations are required.
Please R.S.V.P. by Thursday, February 21, by email to Nancy Isaac or call (847) 835-6925.