Saturdays and Sundays, May 26 – October 7, 2018
1:30 and 2:30 p.m.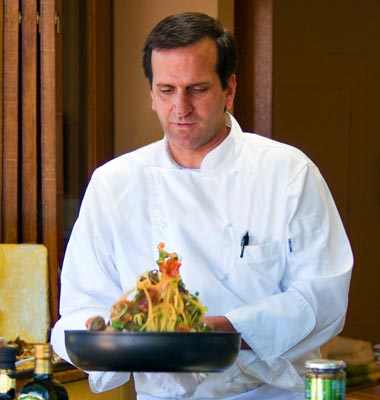 Learn to cook with garden-fresh ingredients all summer long at the Garden Chef Series. Noted chefs prepare recipes in the Regenstein Fruit & Vegetable Garden's open-air amphitheater.
Seating is first-come, first-served for these free demonstrations. Visitors will need to use sun protection and wear caps in this sunny location. No umbrellas, please.

The Regenstein Fruit & Vegetable Garden is the Midwest's headquarters for fruit and vegetable gardening information. It exhibits the best edible plants to grow in the Chicago area. Interpretive signs explain the organic growing techniques used throughout the Garden. Through the Garden's Windy City Youth Farm program, seasonal produce from the Fruit & Vegetable Garden is used in the food in the Garden View Café.
We'll feature recipes from the Garden's participating chefs, past and present.
2017 Schedule
Date
Restaurant
Chef
Saturday, May 27
312 Chicago
Luca Corazzina
Sunday, May 28
Real Urban Barbecue
Dean Eliacostas
Saturday, June 3
Hewn Bakery
Ellen King
Sunday, June 4
The Shanty
Dimitri Kallianis
Saturday, June 10
Garden View Café
Samuel Lee
Sunday, June 11
Shedd Aquarium
Michael Hiller
Saturday, June 17
Sinhá
Jorgina Pereira
Sunday, June 18
Dirk's Fish and Gourmet Shop
Terry & Dirk Fucik
Saturday, June 24
One North Kitchen & Bar
Erica Fischer
Sunday, June 25
Guildhall
Fernando Angelina
Saturday, July 1
Taste of Brasil
Cristiane Pereira
Sunday, July 2
Arbor
Leonard Hollander
Saturday, July 8
Hilton Chicago
Mario Garcia
Sunday, July 9
Pierrot Gourmet at The Peninsula Chicago
Nathan Zarach
Saturday, July 15
Bobby's Deerfield/Cafe Lucci
Augie Arifi
Sunday, July 16
Tapas Gitana
Andy Novak
Saturday, July 22
Honey Butter Fried Chicken and
Sunday Dinner Club
Christine Cikowski & Josh Kulp
Sunday, July 23
Nieto's
Debbie Nieto, Sonya Soto,
Juan Carlos Osorio
Saturday, July 29
Ad-Lib Geocafe
Rick Starr
Sunday, July 30, 11 a.m.
Whole Foods Market
Viviana Proano
Sunday, July 30
La Sirena Clandestina/El Che Bar
John Manion
Saturday, August 5
Hearth
Michael Elliott
Sunday, August 6
Publican Quality Bread
Greg Wade
Saturday, August 12
Museum of Science and Industry
Brad Bussen
Sunday, August 13
Culinary Landscape
Mike Schulte
Saturday, August 19
Whole Foods Market
Viviana Proano   
Sunday, August 20
Dave's Specialty Foods
Dave Esau
Saturday, August 26
The Lunchroom
Laura Piper
Sunday, August 27
Found Kitchen and Social House/The Barn
Nicole Pederson
Saturday, September 2
Farmhouse Restaurant
Eric Mansavage
Sunday, September 3
Campagnola/Union Pizzeria/Union Squared
Vince Di Battista
Saturday, September 9
The Chopping Block
Shelley Young
Sunday, September 10, 11 a.m.
(additional demonstration)
Celebrate Bulgaria Day
Daniela Valkanova
Sunday, September 10
Longitud315
Tony Castillo
Saturday, September 16
Culinary Landscape, Chicago Botanic Garden
Michael Schulte
Sunday, September 17
My Private Chef, Inc.
Christopher Tong
Saturday, September 23
Hoosier Mama Pie Company
Paula Haney
Sunday, September 24
The Hearty Boys
Steve McDonagh & Dan Smith
Saturday, September 30
Diva Chocolates & Confections, Inc.
Karianne Soulsby
Sunday, October 1
Cafe Central
Juan Carlos Medina Vasquez
Saturday, October 7
Culinary Landscape
Steven Hipp
Sunday, October 8
Toyota Park
Rafael Aguiniga
Note: The Chef Series schedule is subject to change. The online schedule is updated as needed, but may not be able to reflect all last-minute changes. As there are newly planted trees in the kitchen amphitheater area and it is very sunny, visitors will need to use sun protection and wear caps. No umbrellas, please.