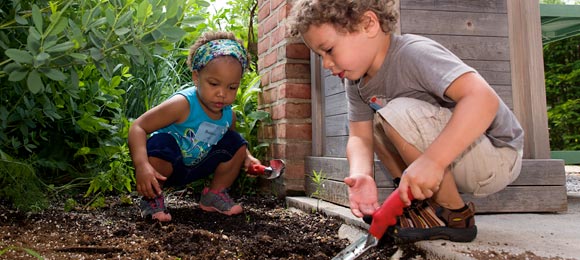 Age 2
Born on or before September 1, 2013
Spend time learning, exploring, and bonding with your toddler. Camps focus on parent and child interaction with nature, science, art, and garden activities. All camps are designed specifically for tots' fine and gross motor skills and social development. These two-day camps (Tuesday & Thursday) are unique to the Garden's youngest kids.
Art & Music
July 21 & 23
Share the joy of creating garden-inspired art with your child. Have fun practicing fine and gross motor skills while developing your child's appreciation of nature and the arts.

Fantastic Foods
July 14 & 16
Is your tot interested in helping out in the kitchen, setting the kitchen table, or eating new foods? Prepare a tasty snack and work on kneading, mixing, grating, and spreading skills. 

My First Garden
July 7 & 9
Your little gardener will dig, sow, and harvest with our child-sized tools! Grow those gardening skills by digging in the dirt and helping us create a garden!

Small Scientists
July 28 & 30
Toddlers will explore the world using magnets, water, sand, and the colors of the Garden. Discover textures and smells in nature, practice observation skills, and use scientific tools.