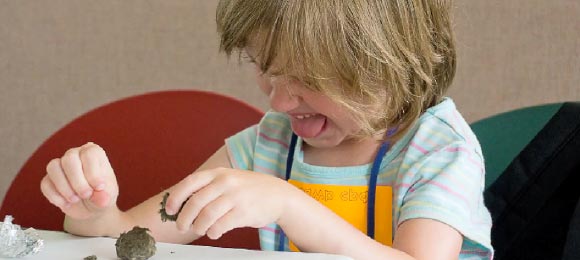 Entering Jr. Kindergarten - Kindergarten
Ages 4 and 5
Green Sprouts day camps are designed specifically for preschool and kindergarten aged children. Camp activities invite kids to investigate science and nature with hands-on, inquiry-based activities.
Bug Brigade
Is your child fascinated by bugs? Children will get up close and personal with butterflies and bees, learn how their favorite insects see, and make a bug sucker to collect and study insects.
Fun with Physics
Green Sprouts will perform basic physical science experiments and discover the laws that rule the natural world. They'll explore why items sink or float, how magnets work, and static electricity.
Garden Expedition
Young ecologists will investigate trees, leaves, prairie plants, and aquatic creatures, discovering all that the natural world of Illinois has to offer by visiting the many habitats found in the Garden.
Habitat Hunters
Habitat Hunters will explore the different habitats the Garden has to offer, learn how to track animals, and make a habitat for one of the creatures that live here.
Hidden Treasures
Campers will use a map to find their way, create a treasure chest, and dig up a treasure to keep. They'll also bring home a plant with a hidden treasure to share.
Mad Scientists
For young explorers who have ever wondered how fireflies glow, why leaves change, whether fish sleep, or just WHY? They'll find these answers and many more as they become not-so-mad scientists.
Nature Art
Explore all the ways to make art from nature! Green Sprouts will use the sun's power to make prints and dyes, use clay for sculpture, and become inspired by flowers with watercolor painting.
salad science
We eat parts of plants every day. Young food scientists will explore the Garden to discover how foods grow. We'll discover how plants change the sun's energy into energy for our bodies, prepare our own snacks, and plant a salad to take home!
Sprouting Wizards
Kids become science wizards as they explore basic chemistry and the properties of solids, liquids, and gases through experimentation. No need to bring magic wands…we'll make our own!
Super Seedlings
Campers will dig, plant, water, weed, and sow in the Garden. Working together, they'll create a garden, practice seed dissection, and become true gardeners!