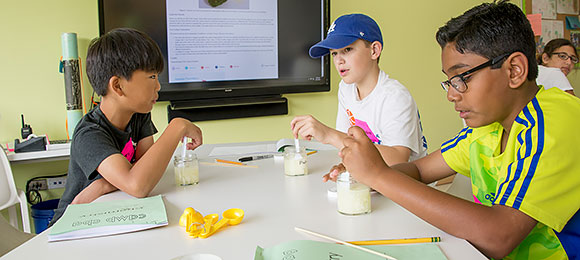 Entering Grades 5 – 7
Ages 10 – 12
Our full-day camps for middle schoolers are one-of-a-kind summer camps! Instructors challenge campers to use their observation skills and individual experiences as each discovers how plants play a role in art, chemistry, cuisine, and ecology.
Art
Adventurers use various media to create their own art. Using the Garden as a backdrop, students will develop their painting, sculpture, and drawing skills. They will explore the use of natural materials and learn various tricks of the trade used by professional artists.
Chemistry
Who knew chemistry could be so cool?! Adventurers will explore the basics of chemistry and chemical reactions. By performing simple experiments, they will develop a basic understanding of acids and bases, fine-tune measurement skills, and understand the importance of accurate data observation and recording.
Cuisine
Calling all aspiring chefs! Campers will discuss menu techniques and preparation; learn principles of cooking with fruits and vegetables; improve basic chopping skills; and learn the importance of kitchen safety, setting a table, plating dishes, and creating a healthy meal. We'll use our harvest in simple summer recipes—ice cream, pasta, and more! 
Ecology
What does an ecologist do at the Garden? Adventurers will discover what scientists do as they explore the Garden's native Illinois habitats. Campers will conduct studies in our prairie, wetland, and woodland habitats, becoming familiar with native species. They will perform their own surveys, identifications, and field observations.