Thursday, April 25, 2 –3 p.m.

Alsdorf Auditorium
Click here to register online. This event is $25 per nonmember; Garden and Garden Conservancy members receive a 20 percent discount.
Garden Conservancy members please call (847) 835-8261 to receive the registration discount.
Anglo-Irish actress Carol Drinkwater is perhaps most familiar to audiences for her award-winning portrayal of Helen Herriot in the BBC series All Creatures Great and Small. A popular and acclaimed author and filmmaker as well, Carol has published nineteen books. When she and her husband Michel purchased a run-down property overlooking the Bay of Cannes, France, they discovered 68 400-year-old olive trees. Once the land was reclaimed and the olives gathered and pressed, Carol and Michel became the producers of top quality olive oil, and their farm has since gained an AOC (Appellation d'Origine Contrôlée). Her series of memoirs about her experiences (The Olive Farm, The Olive Season, The Olive Harvest, and Return to the Olive Farm) have become bestsellers in the United States and abroad.
Carol's fascination with the olive tree extended to a solo 17-month Mediterranean sojourn in search of its mythical secrets. The resulting travel books, The Olive Route and The Olive Tree, have inspired a recently completed five-part documentary film series entitled The Olive Route. Carol has also been invited to work with UNESCO to help found an Olive Heritage Trail around the Mediterranean basin, with the dual goals of creating peace in the region and honoring the ancient heritage of the olive tree.
Join us for a lecture by Drinkwater that will explore her discovery of the rich history and culture of the olive tree. This event is presented by the Garden Conservancy and the Chicago Botanic Garden, and cosponsored by the Association of Specialty Cut Flower Growers.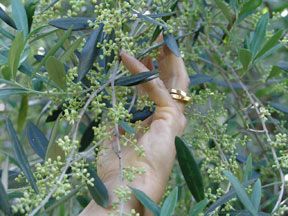 Olive flowers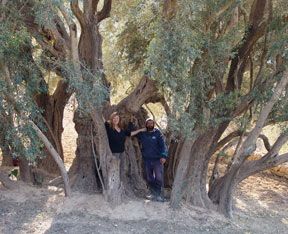 Carol Drinkwater and the guardian of an olive tree, within the tree near Bethlehem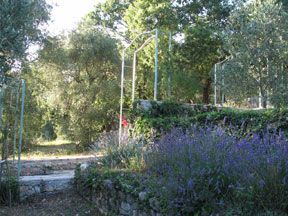 Carol's olive grove in Provence