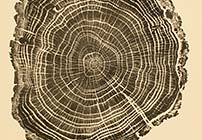 January 19 - April 14, 2013
9 a.m. – 5 p.m.
Click here for more information.
Woodcut is now available in the Garden Shop.
Book Signing - Bryan Nash Gill will be in the Joutras Gallery signing books from 1 to 3 p.m. on Sunday, April 14. The Garden Shop will be set up in the Gallery so you can purchase books, notecards, and original artwork.  
This breathtaking exhibition of Bryan Nash Gill's woodcut relief prints looks deeply into the life of 25 trees. In a remarkable ink and paper documentation, Nash captures the miracle of nature and time through every line, crack, and tree ring. The exhibition is on display in the Joutras Gallery of the Regenstein Center.