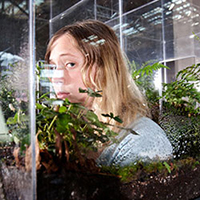 Friday, April 20 – Sunday, April 22, 2018
Burnstein Hall
Experience three Illinois ecosystems from the inside out, close-up and personal, in this interactive terrarium exhibition created by Seattle artist Vaughn Bell and Chicago Botanic Garden Scientist Pati Vitt. The secrets of a bog, ravine, and woodland are revealed at eye level by placing your head within these life-size terrarium-like structures. The contrasting multisensory, immersive experience of each ecosystem highlights the complexity and nuance of our local natural spaces, as humans sharing the same air and the same earth.
Free; open to the public during Garden hours.