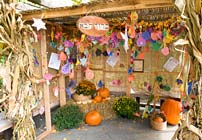 October 14 – October 25, 2016
Family activities: Sunday, October 16, 11 a.m. to 4 p.m.
In honor of the Jewish harvest holiday Sukkot, the National Council of Jewish Women (NCJW) and JCC Chicago will create the annual sukkah display at the Regenstein Fruit & Vegetable Garden. The branch-covered booth is decorated with fall fruits and vegetables, including dried corn, squash, and gourds. Families are invited to take part in arts and crafts activities to decorate the sukkah.
Sukkot, or the Festival of Booths, celebrates the end of the harvest and the days when the Israelites lived in the wilderness before entering the promised land. A sukkah is often erected during the festival, and this branch-covered booth is decorated with fall fruits and vegetables. It is common practice for Jews to eat in—and even live in—this temporary dwelling during the seven-day festival. Another tradition is to wave the lulav—a long, palmlike branch that is a combination of myrtle, palm, and willow, while holding an etrog, a lemonlike fruit, alongside it.
Activities are sponsored by National Council of Jewish Women, Chicago North Shore Section, and JCC Chicago. NCJW is a volunteer organization that works to improve the quality of life for women and children. The NCJW's Chicago North Shore Section focuses on advocacy and community service projects, including sponsoring the annual Sukkot program at the Chicago Botanic Garden. JCC Chicago is a nonprofit organization inspired by Jewish values, bridging traditions and generations to create a more vibrant, connected community. JCC is a partner with the Jewish United Fund in serving our community.